Serving New Jersey Over 40 Years
The story of Chicken Supreme starts with its founder, Socrates Lambrinides. Born November 10th, 1945 in Volos Greece, Socrates came to the United States at the age of 10. He graduated from Emerson High School in Union City, NJ and then served one tour in Vietnam with the US Army until 1967.
Shortly thereafter, Socrates met Phyllis whom he married November 25th, 1973. Socrates was a shining example of the American dream. Coming to America with only the clothes on his back, he worked tirelessly in the restaurant business to save enough money to open his own restaurant.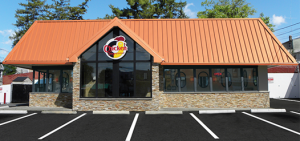 In August 1976, Socrates purchased Chicken Unlimited and changed the named to Chicken Supreme. Chicken Supreme remains a family run business after Socrates son, Jason, took over the business.
Chicken Supreme has now been serving their loyal customer base for over 40 years with some of the most delicious chicken around.